Affton is a little bit farther south than some of the other areas that we've toured, but still pretty much centrally located, you're kind of just south of Maplewood, just South of Shrewsbury and still close to highway 55. Part of Affton is in St. Louis city, just a little part of it, but for the most part, the rest is in St. Louis County.
Most of the homes in Affton are going to be what you see here, they're going to be smaller brick bungalows. They'll be two and three bedrooms, most of the time, one to one and a half bath, if you're really lucky you'll get two bathrooms. Smaller yards, detached garages, but really cute. Most of Affton is very pretty, lots of trees, lots of green, it's a nice neighborhood.
Because the houses are a little bit smaller, one of the really attractive things about Affton is the affordability of Affton. You can typically get one of these brick bungalow homes way under the $300,000 that you would be paying for the same house in say Webster or Kirkwood.
And another nice thing about Affton is the school system. The school system, Affton School District, is pretty good. They have done a lot with the school system in the last few years and so the area has become much more popular for people.
The Western part of Affton is going to have some of the larger homes in Affton, they're going to be larger, more spread out. You'll have two, three, maybe even sometimes four bedrooms with two and three bathrooms, possibly. Usually these houses are going to have like two car attached garage rather than a detached garage, which is really nice.
Most of Affton is not going to be as walkable as some of the city neighborhoods of St. Louis, but there is no shortage of commercial space available. Lots of restaurants, most of what you'll find as far as restaurants and shops are all going to be more in kind of this setting, which is more of like the strip malls. But there's some really fantastic food in Affton, in fact, coming up here is one of my favorite parts of Affton which is a place called Nine Mile Garden. It's a food truck place, they have live music, they have movies on the weekends. There's a great little bar that you can see coming up called the Canteena, this is it right here. And it's a great place. Even in the winter time to go, they've got fire pits, you can bring your pets, kids can run around, it's pretty great.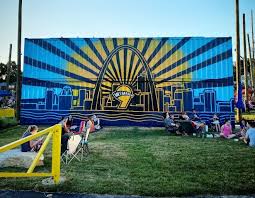 One of the super cool attractions in Affton is an area called Tower Tee, which is a recreation complex. It's been around for years and years, a driving range, mini putt and batting cages. It was going to be brand new houses, but a one man single-handedly kind of saved it, which is kind of a cool story. But all of that is now under construction and my understanding is later, sometime this year, it will be up and running as Tower Tee once again.
If you ever have any questions about Affton or any other areas in St. Louis, please don't hesitate to reach out I'm always happy to talk about that St. Louis. And don't forget to subscribe down below.