Brentwood, is great for so many reasons. One of the biggest reasons really is where it's located. So it is really almost right smack in the middle of St. Louis City and St. Louis County. It is just South of Clayton. It butts right up to Highway 40, a little bit North of Webster and Kirkwood. So you can get anywhere really quickly, mostly because of how close it is to Highway 40 and inner city 170. So you can pretty much be at the airport in 10 minutes or so, if you work in Clayton, you can be there super quickly. Super close to lots of stuff.
One of the other really cool things about Brentwood is just the various styles of houses. You can really get something small and affordable all the way up to something with a lot more room.
Part of the charm of Brentwood is really just how cute everything is. There's so much charm and character in Brentwood. Lots of cute brick houses, lots of lovely landscaped yards and flowers. On the east side of Brentwood, which is where we are now, these are some of the smaller houses in Brentwood, and they typically are going to be a little smaller than even what you're going to see in South City. So around a thousand square feet, sometimes only two bedroom, one bath. If you're lucky, maybe two bedroom, one and a half bath. If you're really lucky, maybe three bedrooms. They are going to have smaller yards. And most of the time they're only going to have probably a one car garage or no garage at all.
You will pay a little bit higher price point in Brentwood than you're going to pay say in South City or even Maplewood and Richmond Heights. And I think it's mostly because of the location. I say that it is a higher price point, that's my opinion. So for some of these smaller cuter, two bedroom, maybe one and a half if you're lucky, two and a half bathrooms, you're going to be somewhere in the price range of $200,000 to $300,000. Hopefully if you're lucky, maybe you can get a finished basement and expand a little bit more on your square footage. But for the most part, a lot of these houses are pretty small and a little bit more pricey.
The other thing going for Brentwood besides just the location, is the school district. So that's the other thing that's going to make these houses a little bit more expensive. Brentwood School District is fantastic. It has an A+ rating in niche. It's consistently ranked as one of the top districts in the area. And because Brentwood is a little bit smaller, there is the ability to walk to school.
So you'll see here that there's a lot of new construction in Brentwood, too. I think because some of the houses have been so small, there has been a desire for people to move to the area and maybe do something a little bit bigger. So some of the smaller houses have been knocked down recently with new construction added.
We are now on the west side of Brentwood Boulevard and a little bit closer to McKnight Road. These houses are going to be bigger, much bigger than what you see on the east side of Brentwood. So these will be three and four bedrooms. They'll typically have two, two and a half or three bathrooms. You're more likely to find a house with a master suite over here. You're more likely to find a two car garage. You'll definitely get a bigger yard space also. But again, with that is going to come a higher price tag.
The bigger houses over here on this side of Brentwood are really going to start more around $304,000. One of the older houses probably end up more in the $400,000 or $500,000 range, depending on how much square footage they have. Or if you're looking at the new construction, that's really going to start more around $500,00 or $600,000 and go anywhere up to $800,000 or $900,000. These parts of Brentwood start to border a little bit over into the Ladue area too, which is going to make it a little more expensive.
So, you can't talk about Brentwood without talking about Brentwood Forest. These are the condos that are located on the north side of Brentwood and it's a great opportunity for first time home buyers. I have several investor clients that own property in here to rent out. And it's a big part of Brentwood. Everybody knows about Brentwood Forest. The location is absolutely fantastic, so people love it here.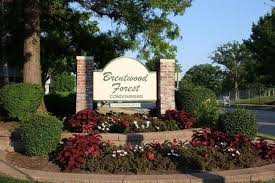 The other thing that you absolutely have to mention when talking about Brentwood, is the location to all the shopping. So as we come around the corner here, you'll see one of the biggest strip malls. I don't want to call it a strip mall, but shopping centers right here in the middle of St. Louis City and St. Louis County, is the Brentwood Promenade. This is where the Whole Foods is. There's a Michael's here. There's an REI.
On the east side of Brentwood, and I obviously don't need to show it to you because everybody knows what a Target looks like, but Target is over there and Trader Joe's. So it's really, really convenient. A lot of the people that I have worked with that live in Brentwood, just either ride their bikes or walk to get their groceries and do all their shopping. So that's part of the biggest appeal, I think to Brentwood. Sorry about all these giant bushes. It's hard to see what's going on here, but all of those convenient stores are hidden back there behind all that landscaping. So that is Brentwood. If you have any other questions about Brentwood or want to know anything about any other part of St. Louis City or St. Louis County, I'm always happy to help. Feel free to reach out with your questions or comments.