Lafayette Square is located in the city of Saint Louis, and it really has a fantastic location. You are just south of downtown. You're just west of Soulard, so you can get to all the fun things that happen in Soulard. It butts right up to highway 44, so if you need to get out west pretty quickly, you can. I do have some clients that live in Lafayette Square but work over in Illinois just because they're looking for something a little bit more charm in character over here in Saint Louis, but still are able to get across the river pretty quick.
This is Lafayette Square. We are getting ready here to turn onto Mississippi. This block of homes is really interesting. All of these are new construction, and they are of course built right in line with how the older homes in Lafayette Square look. The preservation board with Lafayette Square is one of the stricter preservation boards in the city of Saint Louis. So if you do build new construction in Lafayette Square, you typically are going to have to stick really, really close to what the historic accuracy of the properties are.
The architecture in Lafayette square is absolutely fantastic. Most of the homes are Victorian style or French mansard style. Most of them have three stories. There are several that you'll see that will only have two, and that may or may not be because of a tornado that happened in 1896 here, killed a lot of the homes in the neighborhood and took off the third story of several homes. So some of those homes don't have third stories anymore, but the ceiling heights is one of my favorite things about Lafayette Square homes. You'll find soaring ceilings in these places, sometimes up to 11 and 12 feet on the first floor, and the attention to detail with the brick work with a lot of the plasterwork inside the ceilings on.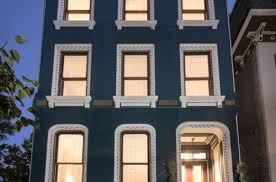 A lot of times, the dining rooms and living rooms are going to be super ornate. They're just really nice. Smaller yards, so the houses are a little bit closer together, so it's much smaller as far as yard space goes, but you often will still be able to fit a garage or a carport in the back. Most of the people in the neighborhood just use the park as their yard. This is Park Avenue. This is where the majority of your bars and restaurants are going to be and shopping. There are some really fantastic stuff here. This is exactly where Park Avenue coffee is going to be and Polite Society a little bit farther down.
If you go down Mississippi to Couteau, that's where you'll find Planter's House and 1111 Mississippi and Vin De Set, so lots of fun options here. As far as housing pricing goes in the city, these homes are going to be a little bit more expensive than some of the other areas in the city. For something with three to four bedrooms, with two to three bathrooms, you're going to be looking at anywhere from 400 to 700,000. There are some of the really, really big ones that are going to be closer to a million though.
This is Lafayette Park. Lafayette Park is fantastic. There are lots of events that they have here in the park throughout the year including live music and a movie night. It's a really popular place for birthday parties and for weddings. There is some really fantastic architecture in the park as far as the park house, some of the bridges, which I will also reference in the description down below. Also located right here in Lafayette Square is one of my favorite schools in the city. Lafayette Prep Academy is right there on the corner, so walkable.
It is a school that's available for everybody in the city, but it is walkable right here in Lafayette Square. If you're looking for any more information about Lafayette Square, please feel free to reach out, and as always, subscribe and comment down below. If you've got more questions, you can give me a call or shoot me an email anytime.